Banner Bug Retractable Banner Stands are made in Australia and are known worldwide as a durable, modern, compact and lightweight display solution.
Banner Bugs are known for their reliability even with long-term use and all our Banner Bug retractable banners come with a lifetime warranty on hardware under normal use.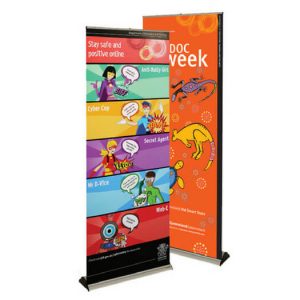 Banner Bug display panels are retractable and roll up, ensuring that the printed surface is protected during transit, safely tucked away inside the base unit, reducing the potential for damage during transit.
Our Banner Bug retractable banners are all supplied with a padded bag and comfortable straps.
Easy to pack in the car or check onto a flight as the hard base unit protects your graphic and you need not be concerned about pieces being separated during transit due to the all in one design.
Your graphic can be printed single or double sided and will be printed on an anti-curl lightly textured pull up banner that minimises glare.
All of our Banner Bug retractable banners are 2170mm high.
You can then choose between four different widths – 850mm, 1m, 1.2m and 1.5m.  For those occasions when you really want a big impact look to the Banner Bug Media Wall which comes in widths of 1.8m, 2.4m and 2.9m wide.
Banner Bugs offer a large range of sizes and its huge Media Wall options are a stand out in the market for large retractable banners – no doubt accounting for their popularity.
Banner Bugs are perfect for lobbies or presentations when you need a sleek and simple structure and quick assembly and pack up.
Screen Offset Printing is your printing solution specialist.
Call Screen Offset Printing today on (07) 3265 1900 today, request a quote via our website or drop into the office at 202 Robinson Road, Geebung Brisbane.