A C Shaped Wall Fabric Tension Display is a lightweight and stylish way to make a design statement at any exhibition, trade show or interior event.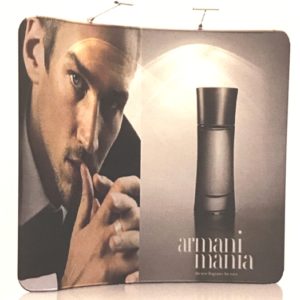 A C shaped fabric wall will instantly create a semi private meeting area at a tradeshow exhibit or special event and will ensure that your display stands out from the crowd.
It is the perfect alternative to a pop-up exhibition stand and can be set up quickly and easily by one person with no need for tools.
Our customisation and graphics options mean that we can create a wall that is the perfect backdrop for your tradeshow display and the ideal way to create a private and stylish conference area within any space.
Lightweight and stylish a C shaped Fabric Tension Display wall combines the latest in fabric printing technology with a lightweight and easily erected frame.
Both economical and high impact, these fabric walls are next generation for large graphic displays and allow you to create a focal point that will really get you noticed.
Our C shaped fabric walls all measure 2280mm high and come in 3 widths – 2980mm, 4000mm and 5960mm.
The printed fabric sleeve stretches across a lightweight tubular frame that is easily assembled on site.
Choose from double or single sided options.  The fabric graphic is easy to store and stretching it over a frame ensures that you need not worry about creases.
When it is time to pack your display away the fabric wall can then be quickly and easily packed away into a bag that is 87cm x 37cm x 37cm.
Screen Offset Printing is your printing solution specialist and offers free delivery to Brisbane and the Gold Coast.
Call Screen Offset Printing today on (07) 3265 1900 today, request a quote via our website or drop into the office at 202 Robinson Road, Geebung Brisbane