An Ezy Tube fabric display is lightweight, portable and the ideal solution for quick set up and dismantling.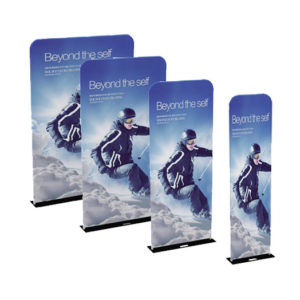 They are printed with a seamless stretch, "sock fitting" design, printed either single or double sided.
That fabric panel then stretches over the frame to provide a sleek and eye-catching display which sits on a flat base to provide stability.
An Ezy Tube is suitable for use against a back wall or in the midst of your display area – providing one of the quickest and simplest display options on the market.
Set up should take you no longer than 5 minutes, giving you a virtually instant display solution that looks both sleek and modern.
Our Ezy Tube frames are made from a lightweight metal tubular frame and all are printed onto stretch fabric that is both washable and wrinkle resistant.
An Ezy Tube will give you a highly professional and polished display at an affordable price. 
All of our Ezy Tube fabric displays are 2280mm high.
You can then choose between 4 widths – 612mm, 917mm, 1227mm and 1526mm.
When you're done for the day, these banners pack down into a very manageable strap carry bag that is light and easy to pack up.
As with set up, dismantling your Ezy Tube display should take you no more than 5 minutes, ensuring that you don't waste valuable time taking your stand down at the end of the day.
Talk to us about designs for your Ezy Tube display. 
The versatility of either single or double sided options mean that you can use your Ezy Tube display in a number of settings.
Screen Offset Printing is your printing solution specialist and offers free delivery to Brisbane and the Gold Coast.
Call Screen Offset Printing today on (07) 3265 1900 today, request a quote via our website or drop into the office at 202 Robinson Road, Geebung Brisbane.