Screen Offset Printing offers a range of vehicle graphics solutions that will transform your vehicle or fleet cars into mobile advertising.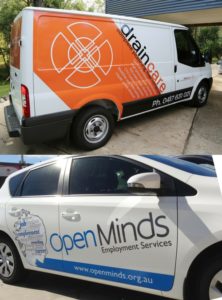 Don't miss the opportunity to drive your own advertising around town and really get noticed!
We use only premium cast and polymeric vinyl for our vehicle graphics.
Premium cast vinyl is enduring and ideal for a long-term solution that will be resistant to shrinkage, fading and chemicals.
Premium cast vinyl starts as a liquid which is allowed to set in a thin layer.
This makes it highly conformable and it can be easily and smoothly applied over irregularities, making it ideal for vehicle application.
Premium cast vinyl is also very stable which means that any shrinkage is barely noticeable.
Polymeric vinyl is made in different way from cast vinyl and starts out as a piece of plastic that is flattened using pressure rollers.
Polymeric vinyl has added polymers to reduce shrinkage but is not suitable for application over textured or irregular surfaces.
It can, however, be easily applied to smooth surfaces on your vehicle if it is your preferred option.
If you are looking for a long-term solution or want to apply a vehicle wrap over surface irregularities then we recommend premium cast vinyl.
If, however, you are looking for more limited application or shorter-term solution then polymeric vinyl will still provide you with high quality vehicle graphics.
We can contour cut your vehicle graphics to suit any application and can, if you wish, arrange for installation on your vehicle.
We can also provide you with completed vinyl graphics which you then apply yourself if this is your preferred option.
Vehicle Graphics includes:
Car and fleet graphics solutions
Tradesman graphics including Ute and Van applications
Partial wraps
Pantec and truck  signage
One way vision
Screen Offset Printing is your printing solution specialist servicing Australia with free delivery to Brisbane and the Gold Coast.
Call Screen Offset Printing today on (07) 3265 1900 today, request a quote via our website or drop into the office at 202 Robinson Road, Geebung Brisbane.