Water Fillable A-Frames are ideally suited for areas with high winds due to their design components.
The stand is able to be filled with either water or sand to provide the weight to withstand and maintain stability through the most, blustery of conditions.
This A-Frames ability to stay on its feet is further strengthened through springs connecting the base and the metal signage panels.
At the end of the working day, the longer-term interchangeable A-Frame sign is able to be easily moved inside to a protected location through the wheels on the base.
Everything about the Water Fillable A-Frame is class. The snap frame is easily changed without tools, allowing you to alter your display quickly and easily.
The stand-out footpath display comes in one eye-catching doubled sided size of 600mm width x 900mm height.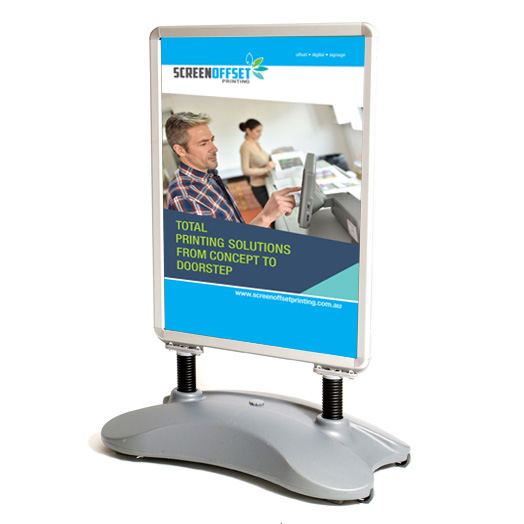 Without any word of doubt, the modern and unique looking Water Fillable A-Frames are a great way to draw attention to your business at a footpath level.
When it comes to the advertising sign itself, Screen Offset Printing has a number of available options from corflutes to vinyls including paper.
For corflutes and vinyls, the printing is done on one side using UV inks with a printing method that ensures your sign is scuff resistant and weatherproof.
Cleaning is easy – simply use a squeegee to keep your sign looking as good as new.
Your potential clients will love the professional look of the water fillable A Frame which can make all the difference in whether they make the decision to come into your business or not.
Whether it be a newsagency, accountant, general retail store, arts and craft store, restaurant or café, the Water Fillable A-Frames is a fantastic option to tell your story.
If you don't tell your story, no one else will which makes these A-Frames a very powerful and affordable marketing tool.
Screen Offset Printing is your printing solution specialist servicing Australia with free delivery to Brisbane and the Gold Coast.
Call Screen Offset Printing today on (07) 3265 1900 or drop into the office at 202 Robinson Road, Geebung Brisbane to discuss your signage needs.